The history of Moulin Noir
Skip this ancient stuff and go to old news section, aka History, Part II
The Beginning
It was early in the year 1979. I was in the passenger seat of a bright orange coloured Renault R12... My father was driving. I think we had been fishing or something like that. Suddenly I heard the most remarcable sound ever from the car radio. It was Sparks with "The Number One Song In Heaven". It was unreal. Actually it was the first techno ever made. I instantly thought: "I must buy a synthesizer..."
I worked during that summer, and in the autumn I finally could go to the local music store and buy a black beautiful thing thing with a lot of knobs and patchcords. A Korg MS-20. I simulated earthquakes until I blew a 15" Dynacord bass speaker and seriously threatened the mental health of my neighbours. I still use the MS-20 heavily.
Conflict
1982 I had acquired such skills that I thought I could play in a band. I also had bought a Korg Trident the previous year. Now I could play eight notes at the same time and store 16 programs... The Trident with it's shimmering and fat analog sound has been the framework for most of my songwriting since.
My brother and I joined the local band "Conflict". We sounded exactly like the symphonic rock band Saga. We soon left cause we wanted to play New Romantic music, which finally was big in the remote northern outpost of civilization where we lived. We brought the bassplayer and drummer and formed Style of Life.
Style of Life
Yeah... We had all the right looks, banged on metal garbage, wore all the right clothes... We sounded terrible. Regardless of that Ariola showed some interest, but it ended in nothing. When we finally got better all record companies were in the process of sacking their New Romantic acts cause it was no longer in fashion.
At CBS sweden we 1985 met with an A&R guy that told us "Boys, you have no style!", he said. (CBS sweden had missed the whole New Romantic wave completely. They were successful anyway importing Madonna records.) "You have no target group. Look at Kenneth and the Knutters!", he continued. He turned and showed us a huge poster of a terrible band that did extremely boring guitar rock with lyrics about beer, girls and bikes. About the kind of music we really hated most. "They have a style, a target group!", he almost screamed. Then he continued to give us the same kind of advice until he actually lost his voice. Maybe we had been a huge success today if we followed them. I'm glad we didn't.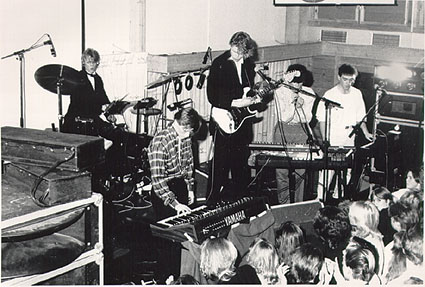 Style Of Life, 1985. Photo © Björn Johansson
Above is a photo from one of our concerts in Östersund. From left to right it's Michael Winton, Christer Jonsson, Magnus Wikholm, myself, and Christer Narup. The girls loved us (mostly due to the looks of my brother). Back then most local boys were deep in to heavy metal. They sincerely wanted (and made several serious attempts) to beat the shit out of us. When ZZ-Top started to use synths they suddenly became friendly. Or perhaps they grew up. Synths from left to right is Yamaha CS40M, Korg Trident, and Korg Ms-20. I guess it's the KPR-77 drummachine on top of the Trident, but that's hard to tell.
Moulin Rouge
Well, it was time to go to the University of Uppsala and get some education. I studied Physics Science. Style of Life was no more, so I continued on my own. I had the stupid idea of changing name for each demo I recorded, which confused everyone. Harald Weller at Ariola still showed some interest, and since the other staff there couldn't pronounce my name at all I decided it was time to get an artist name. Moulin Rouge was born. The other staff at Ariola didn't like me with the new name either.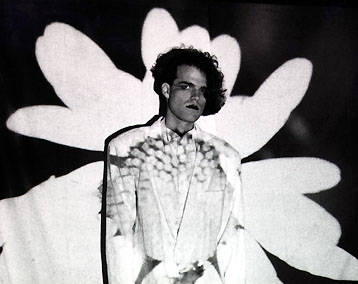 Moulin Rouge. Photo: © Leif Hansson
Now I had improved my songwriting substantially, but it still was very New Romantic. When a Swedish magazine wrote I sounded like A-ha suddenly I had most record companies on the phone. When they found out I wasn't at all a copy of A-ha, but some weird new romantic synt musician their interest vaned instantly.
Moulin Rouge actually was a duo. Leif Hansson was responsible for mixing, producing and recording. In 1989 we made the single "Words Are Something Special". We had recorded a lot of good songs before and after, but this sure wasn't good. Consequently it got almost no attention at all.
The big publishing company Intersong tried to sell some of my songs. Intersong believed "europop" artists in the benelux countries certainly would be interested. They weren't.
Moulin Noir
Well, I'd been in Paris on a conference. I passed by Moulin Rouge one day on the way to Sacre Coeur. I didn't enter the place. LaToya Jacksson was advertized on huge posters all around the entrance. I figured Moulin Rouge wasn't a very cool name after all so I went Noir.
During my studies in Uppsala I met the extremely talented singer/actress Jeanna Bystrand. I asked her if she'd like to work with some new songs and she said yes. The result was the "The House of Richard III" demo, which is our most successful work to this date. The title track with Laurence Olivier screaming "A Horse, A Horse A Kingdom For A Horse!" got quite a lot of airplay.
With new confidence we 1993 made the "What's Up Now?" CD. It generated some publicity, got no airplay at all and sold absolutely nothing. Zero. Quite good reviews and nice articles didn't help. You have to have airplay and a powerful distributor to be successful. We had neither. A great video for the title track didn't help. Back to the drawingboard...
Then I worked and worked for six years and.... not much happened. Moulin Noir appeared at a couple of compilations, most notably the "V/A Retronics" collection. I relocated to Stockholm, and a new job as java programmer / network slave consumed most of my time.
Now it was the year 2000. I had loads of recorded songs but noone really wanted to release them. As usual. Well, you can start your own record company... So enter Burning Car. (Yes, it's named after a John Foxx song.) I got a distribution deal in sweden with Border, and released the "I Can't Sleep" CDM. And swedish media, most notably Sveriges Radio promptly threw it in the waste. It got zero airplay. I guess they never bothered to listen to Frantic's great commercial mix.
But it did get good reviews in synth/underground media... and I got a gig at the Romo Night club in Gothenburg, and at the Tivoli festival in Helsingborg. Autumn the full length CD "Descending" was released, rather discretely. I planned to bang the big drum when the extremely commercial "Maria Calling" single was released. But for various reasons (mostly lack of money) it was delayed. During the autumn Moulin Noir played live in Eskilstuna and Írebro.
Well, mainstream media didn't care zilch about the album but it sure got good reviews underground again. And Moulin Noir was signed by the leading US record company for synth music "A Different Drum". And got nominated for "Best Newcomer" award at Swedish Alternative Music Awards... I didn't win (actually I was fourth of the four nominated), but just being nominated was great. Especially since other nominees like Håkan Hellström got incredible mainstream airplay and publicity.

Moulin Noir, 2004. Photo: Howard & Woz

Now it's 2001 and the "Maria Calling" single is mastered and a promotional video by director Viking Johansson is finished. Releasedate tba soon. I even appeared on the front page of "Metro" in Gothenburg, coinciding with the Pandemonium gig, March 31. A single of "Spellbound" is also planned. The first US release, the remix/retrospective album "White Room" is scheduled to July 17. I've already heard two of the remixes, and it sounds incredibly great. A new US CD album and singles will probably appear first quarter 2002.
Make sure you surf this site from the index page!